Welcome to Horse Trekking farm Miurakaigan!
 Horse trekking farm Miurakaigan is a Freestyle riding facility located 10 min from the Miurakaigan Station. We provide extraordinary experiences that we can only provide in Japan! There are 9 horses including 2 ponies. Please have a fun time with our friendly horses!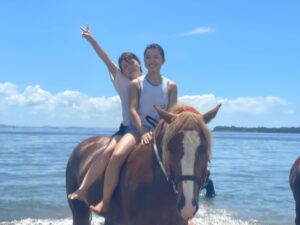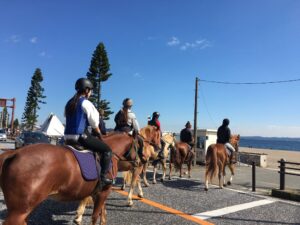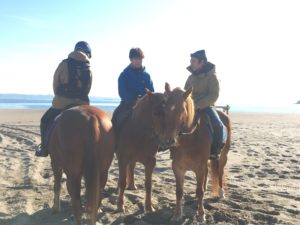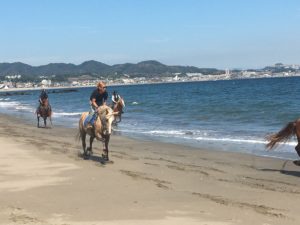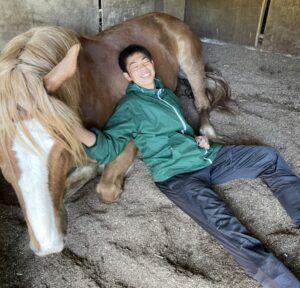 Activities/Price
Beach Swim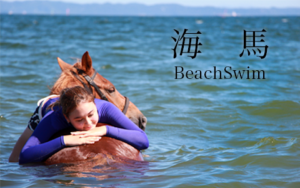 The Beach Swim is an activity offered only during the summer season (July/ August/ September) and you ride the horse on the beach without a saddle. In the water, you can ride the waves with horses, hold on to the horse's tail, and have a relaxed time on the horse's back.
Beach Swim – Experienced

The beach swim will be a 90 min course. You will ride the horse at the farm and walk through the Miura city to the beach. Then, with the horse, you will experience many awesome activities!

Beach Swim – Beginner course

The course will be identical to the experienced course. However, in the beginner course, an instructor will be with you so you can enjoy it!!  
Price
| | |
| --- | --- |
| Experienced (90min) | Beginner (90min) |
| Weekdays – 25,000JPY | Weekdays – 28,500JPY |
| Weekends – 28,500JPY | Weekends – 32,000JPY |
Beach Riding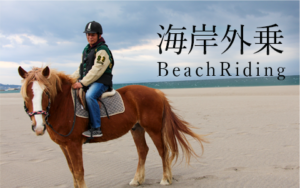 Beach riding is an activity offered all year except months where we are offering Beach Swim (July/August/September). Experienced riders will gallop along the 500m long beach, while beginner riders will have a relaxed time on the horse.
Beach riding Experienced course

Until the people and the horses get a chance to warm up, the horses will trot, but a significant amount of time will be spent galloping with the horse. You will be able to ride the horse to your heart's content. The instructor will ensure safety and enjoyment during the course by making the best decisions based on the condition of the beach and the balance of the customers. Please enjoy the speed like no other horse riding facilities in Japan! Please contact us if you are hesitant or do not have confidence but want to try galloping. The instructor will give advice.

Beach riding Beginner course (Beach riding 90min + Gymkhana 30 min)

The whole course will only be walking. This course is for people who, have less experience in horse trekking, want to enjoy a relaxed time on the horse, want to start horseback riding. The staff will be beside the horse at all times and will guide you along the way! After you enjoy the Beach riding, you will have a chance to test your skills with your horse partner at a small obstacle course located in the farm's facility! Please show other people the wonderful photos and videos you took here and say that your hobby is Horseback riding! *If you do not want the 30min Gymkhana and only want the 90min Beach riding, please inform us when reserving.  
Price
| | |
| --- | --- |
| Experienced (120min) | Beginner (90+30min) |
| Weekdays – 21,500JPY | Weekdays – 23,500JPY |
| Weekends – 23,500JPY | Weekends – 25,000JPY |
Private/customized activities
We also provide private/customized beach riding activities per request. If you would like to have a private event for your family, friends, couples or yourself, feel free to reach out to us over email and let us know. The price will start from 50,000 JPY~ on the weekdays and 80,000JPY~ on the weekend.
Precautions
Prices are per person; Tax not included
The time is the whole experience, not the time on the beach
from 5 business days before the reservation, there will be a cancelation fee
Due to safety purposes, staff will be beside customers under middle school ages so the price will be beginner prices regardless of their experience.
We do not provide Beachriding courses during July, August, and September. The only course will be Beach swim.
Helmets, boots, vests with airbags, chaps can be rented free.
The saddle will be British style

10/1/2023 update: With the increasing population on the beach, we require customers to have more than 100 riding lessons to apply for our experienced horse trekking course for safety reasons.
Cancellation policy
We have a cancellation policy applied after confirming your booking. 
5 days before booking  – 30% of total fee
3 days before booking – 50% of total fee
1 day before booking – 100% of total fee 
However if there is a severe weather condition (lightning, typhoon, etc.) and we have to cancel the activity then there will be free of charge. Please note that we can still have the activity under the rain and if you are not sure about the weather, feel free to consult with us beforehand.
Reservation calendar
Please use this calendar to check for open spots.
Color code Red: Nonbusiness days (定休日) Yellow: Full (満員) Blue: available spots (空き) ex. 午前3名 Ok = 3 open 午前 = morning 午後 = afternoon
Reserve by phone
Please call 046-887-1088
Reserve by filling out a form
Please note that this form will not secure your seat and will be a tentative reservation. If you are in a hurry, please contact us by phone. Please fill out everything in the form. If there is more than one person reserving, please fill out the details for the representative.
Feel free to contact us if you are unsure about something or have any questions!